Building Tomorrow's Green Technology workforce
The DAKTIC WeatherCert Prep Lab is a complete turn-key classroom training system that prepares students for green technology careers in home weatherization and energy auditing. Featuring hands-on education in a simulated work environment, WeatherCert provides exceptional professional training and industry-standard certification exam preparation.

DOE and BPI-Driven Curriculum
WeatherCert covers the Basic and Core Competencies for Weatherization Installer & Energy Auditor jobs required by the Department of Energy's (DOE) Weatherization Assistance Program. The lab also prepares students to sit for and pass the online and field exams for the Building Performance Institute (BPI) Building Analyst and Envelope Professional certifications.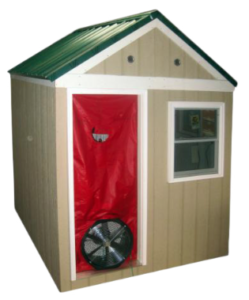 A Hands-On training System
WeatherCert creates simulated environments in the classroom through the use of a self-contained Diagnostic House and various modules. Students who complete the course gain skills and knowledge through hands-on training and are exceptionally well prepared for the BPI exams.
Comprehensive, Flexible, and Turn-Key
Though this system is comprehensive, instructors easily train, manage, and monitor each student's progress. They are free to tailor their classes to meet unique teaching goals, physical classroom restrictions, and student needs.
Total course time can be shortened or extended and special emphasis can be given to any particular industry, technology, or installation type. Instructor training and certification are available, and lab configurations are limited only by an instructor's imagination.
Lab Components
Diagnostic House
The diagnostic house is a 7' by 7' by 7' simulated house complete with a living space and attic. Designed to withstand the elements and allow student to both identify and perform weatherization techniques, each diagnostic house includes standard sized windows and doors and interchangeable ceiling panels equipped with a variety of common household ceiling fixtures and ventilation units.
Diagnostic House Modules
The following modified ceiling panels replace some of the standard house ceiling panels and are used to perform various weatherization tests.
Recessed Lighting Fixture – A lighting fixture mounted in a removable house-ceiling panel.
Combustion Appliance Vent – Used to vent Combustion Appliance Work Station into house attic space for Worst Case Depressurization Test, Spillage Test, and Vent Draft Test.
Exhaust Fan – Used to measure exhaust fan flow.
Duct Leak – Used to measure airflow in a duct leak.
Leak Insertion Window – Includes multiple faults and provides easy access so instructors can control simulated air leaks for pressurization tests.

Diagnostic House Exercises and Tasks
Proper and improper installation examples
Wall and attic insulation installation
Weather stripping
Exhaust fan air flow measurement
Set up blower door for depressurization test
Perform blower door depressurization test
Perform pressure diagnostics
Measure air leakage using leak insertion window
Worst-Case Combustion Appliance Zone (CAZ) Depressurization Test
Spillage evaluation and carbon monoxide and draft measurements
Training Aids
In addition to Theory, PowerPoint,and Exercise Worksheets students can demonstrate effects corresponding to the theory instruction. Two main training aids are.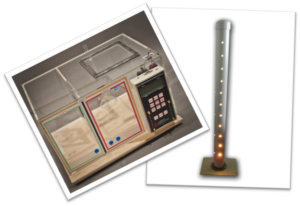 Pressure House – Students are introduced to back drafting as well as an introduction to testing with a Pressure and Flow Gauge.
Stack Effect – Warm air rises, cold air falls. This cycle is called stack effect, and as a result there is a "Neutral Zone" in between. Students can demonstrate their understanding using the Stack Effect Training Aid.
Test Equipment
The WeatherCert Lab contains all the necessary tools to properly conduct a thorough Home Weatherization Energy Audit of a residential structure. All testing equipment is professional grade and industry-standard.
Each Equipment Package includes the following components:
Blower Door
Inspection Mirror Duct
Blaster
Smoke Emitter Pen
Infrared Camera
Infrared Thermometer
Combustion Gas Analyzer
Exhaust Fan Flow Meter
Carbon Monoxide Analyzer
Radiation Detector
Combustible Gas Detector
Moisture Meter
Pressure Pan

Instructor Package
Each Instructor package includes instructional material, equipment to test student work, and tools for instruction.
Instructor Guide
Instructor PowerPoint Presentation
Training Aids
Student Courseware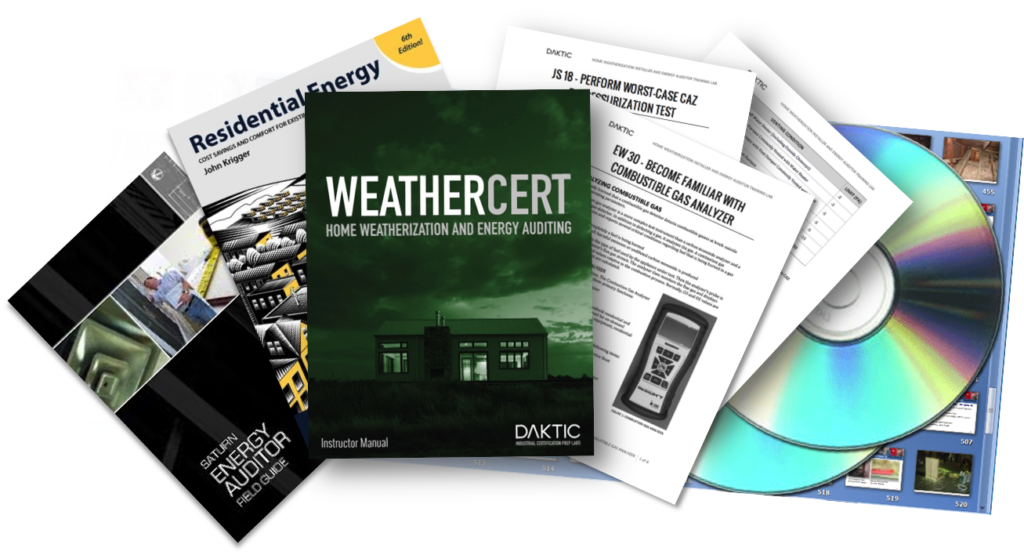 Student Package
The Training Lab contains six Student Packages. Each package includes curriculum, tools and consumables that a student needs to complete the course. The Student Package contains:
Student Manual
Residential Energy Textbook
Energy Audit Field Guide
Installer Exercise Worksheets and Job Sheets
Energy Auditor Work Sheets and Job Sheets
Hand-Outs