Industry is undergoing a fundamental change, raising the stakes for innovation in secondary STEM programs, post-secondary educators, and industrial training initiatives worldwide. To ensure the intermountain west isn't left behind in what is widely called the fourth industrial revolution, DAKTIC has arranged for Festo to lead a discussion and hands-on workshop at Ecotech Institute in Aurora, Colorado on August 16th.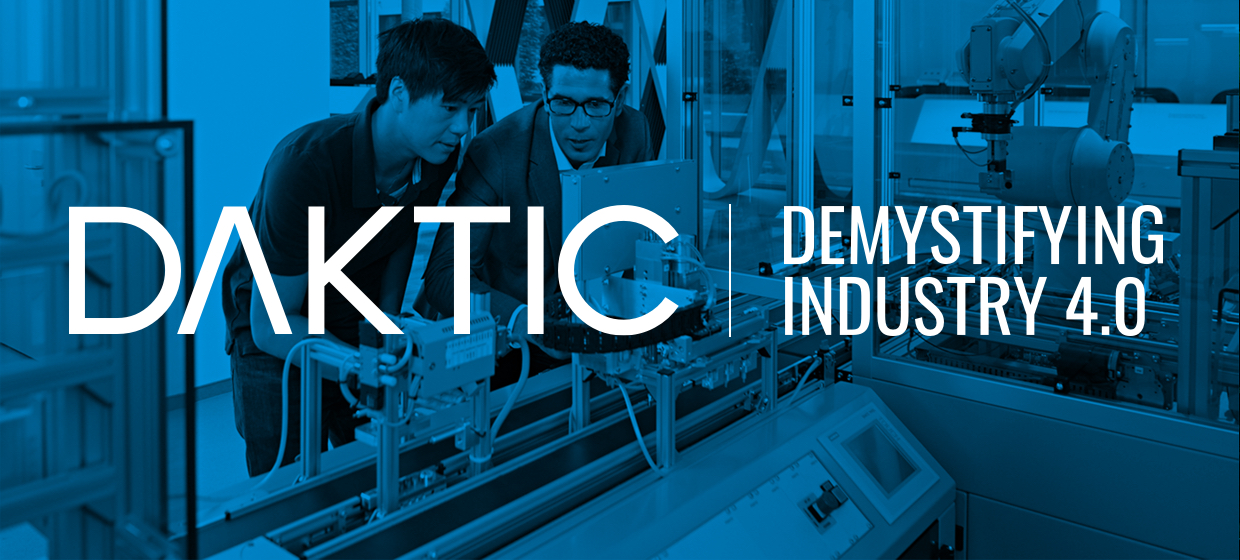 High-Stakes Innovation
While Industry 4.0 technology is well-established among German and Japanese manufacturers, North American companies are falling significantly behind. This should greatly alarm North Americans, since Japan took more than half of the U.S. automotive market during the last industrial revolution by adopting some key automation and robotics advancements before the U.S. did.
Funding Our Future
When Festo held a similar event at the Nevada Governor's Office of Economic Development earlier this year, they helped generate $2,000,000 of funding to help Nevada educators close their skills gap, which will rapidly grow as Nevada industry leaders large and small (including Tesla motors) implement Industry 4.0 technologies. The Ready 4 Revolution workshop is a rare opportunity to learn how to bring the revolution to your home state with the help of Festo, a German automation giant that is shaping the future of smart factories and smart plants worldwide.
What is Industry 4.0?
Industry 4.0 refers to the fourth industrial revolution: the rise of the Industrial Internet of Things (IIoT). According to a Wired Magazine article written by Daniel Burrus, founder and CEO of Burrus Research, the technology behind this revolution "revolves around increased machine-to- machine communication; it's built on cloud computing and networks of data-gathering sensors; it's mobile, virtual, and instantaneous connection;" and it's "far bigger than anyone realizes."

Further Reading
Event Details
Agenda
Tuesday (8/15):
Group Dinner, Introductions (7:00pm)
Wednesday (8/16):
Welcome, Introductions, Agenda Overview (9:00am)
Presentation: Demystifying Industry 4.0 (9:30am)
Roundtable Discussion (10:30am)
Lunch (11:30am)
Presentation: Charting a Path from High School STEM to I4.0 with Festo (12:30pm)
Hands-on Workshop and Facilities Tour (1:00pm)
Workshop Conclusion (4:00pm)
Group Activity: Rockies Baseball Game (6:40pm)
Discussion Topics
Demystifying Industry 4.0
I4.0 Trends and Philosophies
University Research Tools
High School Pathways to I4.0
Industrial Training and Recruiting
Employee Training
Advanced Manufacturing
Featured Training Systems
Compact Industry 4.0 Trainer
Integrative STEM Modules (Secondary Ed)
Industrial Controls
Industrial Wiring
Pressure, Flow, Level, and Temperature Process Control
Solar/Wind Energy
Geothermal
Computer-Assisted 0.2 kW Electromechanical
Hydraulics
EDS Nacelle – Wind Power Generation
Electrical Pitch Hub
Hydraulic Pitch Hub
Rigging
About Festo
Festo is a leading world-wide supplier of automation technology, equipment, and industrial education solutions. Building on their 50-year legacy of innovation, Festo proudly stands as a key player at the forefront of the Industry 4.0 revolution, partnering with educators, industry leaders, and government organizations to empower the industrial workforce of tomorrow.
About DAKTIC
With over 20 years of experience providing industrial training and engineering education systems, DAKTIC is a team of independent distributors, delivering only the best to industry professionals and educators throughout the United States. When it comes to Industry 4.0 education, DAKTIC is proud to partner with Festo Didactic as the exclusive distributor for Colorado, Idaho, Utah, Montana, and Wyoming.